Best PC for music production 2020: Apple Macs and desktop computers for your home studio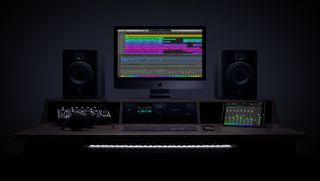 (Image credit: Apple)
In days gone by, basing your studio around a computer meant employing a heavyweight, maxed out lump of a desktop machine. These would sit and happily whirr away, chewing through renders, bounces and processes without a care in the world. Gradually, however, something changed in the music world. People started looking for things like 'portability' and 'more power' from their machines. They wanted desktop power, but in a compact format. This coincided with rapid advancements in computing technology, and thus the all-powerful studio laptop became a thing. So, why have we bothered compiling a guide to the best PCs for music production?
Using a laptop for music production is superb, don't get us wrong. Some even border on monstrous, in terms of what they can do. Indeed, we'd go as far as to say the majority of people in the market for some kind of computer will default to looking for a laptop first and foremost. That doesn't mean they are the best option for everyone though. For many studio owners, there isn't the requirement to take their rig everywhere. Nor do they necessarily need something compact. If this sounds like you, allow us to shine a light on some of the best PCs for music production.
Go mobile with our pick of the 
best laptops
 for music production
What is the best PC for music production?
If you're making the leap from a laptop to a desktop computer-based music studio, you are fortunate enough to have a lot of choice as to which direction you go in. In one corner, you have the gaming computer world, which delivers huge specifications and the promise of easy upgrades in the future. In the next corner there are the all-in-one machines that are as comfortable handling huge spreadsheets and email chains as they are hosting Maschine sessions. And then there's the otherworldly 'pro' models which are beyond most mortals but, for what they are, have to be marvelled at. 
Pound for pound, there is a clear winner though. The 
 offers the perfect balance of price, performance and power, without ostentatious gaming trappings like RGB lights or edgy graphics. It's a sensible, grown up desktop computer that will happily serve you for many years to come.